Welcome to our unique world of adventure!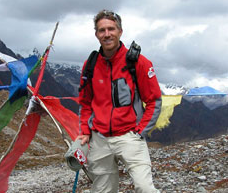 Canadian Himalayan Expeditions Ltd., is one of the oldest and most respected adventure travel companies in the world. We have been safely operating expeditions and adventure tours all over the globe for over 30 years! Ours was the first adventure travel website ever posted on the internet, so we're part of 'net history, having served explorers online since 1993. Our philosophy has been to remain a small boutique-style adventure consulting company dedicated to personal service, as opposed to a large 'packaged tour operator' catering to thousands of people a year.
We specialize in trekking, hiking, and climbing trips all over the Himalayas and other mountain ranges of the world, but we also offer wonderful non-hiking adventures like wildlife safaris, Galapagos cruises, and high-end custom tailored private touring programs. The information on our site shows many of our trekking, climbing, and adventure tours in Nepal, Tibet, India, Bhutan, Africa, South America, and other exotic lands, but only your imagination is the limit. Our trips are designed to be genuine explorations for real travellers who are looking for the advantages of a well planned adventure, but also desire some freedom to do things on their own. Whether you want to visit the wilds of Bhutan on the toughest trek in the world, or an easy cultural tour, trek to Everest Base Camp, drive the Silk Road in Ladakh, climb Kilimanjaro, or do a luxury wildlife safari in the Serengeti, we're the experts who do it right. Join us for the adventure of your life!
Joe Pilaar, Founder & President
Michael Dudeck, Vice-President & Operations Director